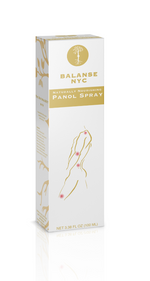 3 Benefits of the Balanse NYC Panol Spray
Topical/external use 
I'm sure you've heard before that the pills and medicine we put into our body are not necessarily in our best interest. The thing about this body spray is that there is no need to harm your body while having some pain relief. Because it is an external product, not to mention all natural, it is safe to use and apply as needed and when needed. Let's call it a natural pain reliever! 
Post gym relief
Who can relate to that sore day after a killer workout?! Let's be real… it's not fun. The Panol Spray (our relieving pain oil) can help with the muscle strain that you endure while working out. A few sprays on the affected muscles, and you should feel that relief you were looking for. 
Arthritis 
If you suffer from swelling in your joints, medically known as arthritis, then the panol spray is something you definitely want to have at hand. No one wants to feel that uncomfortable pain of moving your joints on a daily basis, and spraying this product will let you go by your day more freely and painlessly.