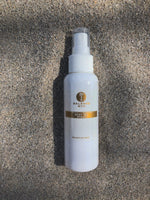 5 Ways You Can Use Your Balanse NYC Body Oil
Apply on body post-shower
Body oil has excellent moisturizing properties, but it is used differently than lotion. When getting out of the shower, your damp skin works better at absorbing body oil, making your skin soft and ready for the day. 
Apply on dry/flaky skin
Long day after work of wearing those fabulous heels that hurt so much but look so good? We all have extra dry skin in parts of our body, like the back of our heel or our elbows. A couple of sprays of our body oil can help hydrate that skin and get you some relief. 
Apply on stretch marks 
Most of the ladies will understand the struggle of stretch marks (remember it's completely normal!) Applying the Balanse NYC Body Oil on stretch marks will promote moisturizing and healing. The body oil absorbs great and if used on the daily, results are bound to show. 
Final makeup glow
Are you ever looking for that model glow after you spent hours working on your makeup? A few sprays of the body oil on top of your makeup will give you that natural glow that you want. It's a guaranteed head turner! 
Razor burn protection
Because of the body oil's moisturizing properties, it is helpful as a shaving tool. If you are prone to razor bumps after shaving, rubbing your legs with the body oil will give them that extra moisture you want before shaving.