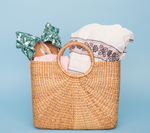 5 Beauty Essentials in Your Purse
We know most women have struggled with what to take out of the house with them when going out. You don't want to overpack, but you also want to be sure you are covered for anything.
Here's our top 5 items to always have in your purse:
Lip balm 
Let's be real, no one likes to have dry lips, especially if you're living in the snow! Lip balm is a major essential in your purse, and although it might sound basic 💁‍♀️ you can have a little fun with it. Tinted chapstick is always an option, it hydrates your lips but also gives them a little color!
Pressed powders 
If you love makeup you know this is an essential to finish every makeup look. When you are out and about, this can help you freshen up your makeup by adding a more matte look to your face. Let's not forget it can also act as a concealer. 
Hand sanitizer 
Wait, is hand sanitizer now considered a beauty essential?! If it's in your purse at all times, then it's considered an essential! Make sure that the one you choose has some sort of benefit to your skin, maybe some vitamins or added moisturizer. Check out our mini hand sanitizers here. 
Hand/body lotion 
In the purpose of staying moisturized, no matter what weather you live in, having a travel size solution can be a lifesaver. Cracked skin is not fun for anyone, and if you rushed out of the house this will come in handy.
Hair tie 
Where are they when you need them the most?! Sometimes you find yourself needing a hair tie in the most inconvenient times, which is why you should always carry one or two in your purse. If you are used to having them around your wrist, a couple of extra ones won't hurt just in case.